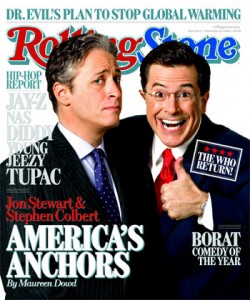 News today is a bit like a cough drop: The medicine (serious news content) has to be concealed within a sugary package (entertainment) in order for it to be consumed.
I'm not the greatest fan of Jon Stewart & Stephen Colbert's new (for 2 yrs now since they got mass) theatrical style, but if a little silly entertainment helps the uninformed get informed then I can deal with it.
Only the upcoming US presidential elections and how well the misinformation is dispelled will show if it was worth it.