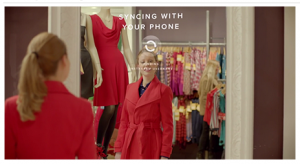 Nowadays Big Data seems to be the buzz word of the year! We hear how it's going to change our lives and change the way marketers address consumers.
One of Big data's most important applications for marketers is that it uses consumer data (buying habits, location, routine, routes etc) to better target and better inform (relevant) consumers about deals, sales, location based needs (umbrella's for a sudden rain shower, water fountains on heat-wave days, mall maps downloaded to your phone etc.)
Privacy concerns will have to be addressed and marketers will have to learn the fine line between helpful and creepy (there will surely be some mis-steps).
Ogilvy (my old agency) gives you a peek into the near future (all the technology shown in the video is up and running) and how big data will manifest itself into users lives once companies have fully integrated it.
A bit heavy on the consumerism but that's a bigger debate.